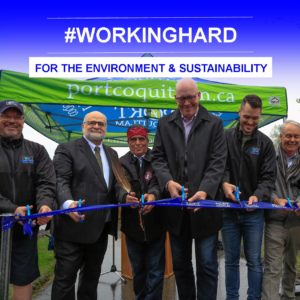 British Columbia is nestled in a temperate rainforest that boasts more diversity that the amazon; we are surrounded by beautiful ocean and mountain views – I take my commitment to preserving and protecting our environment seriously. Restoring and maintaining our planet through green initiatives and sustainability are important causes to me.
Values in Action:
I voted in favour of MP Finn Donnelly's Bill C-228 (closed containment aquaculture) to go to committee for study.
$67, 386 to fund the Fish on Fences Watershed Education and Stream Rehabilitation Program, which will work to protect and preserve Brown Creek (2018)
$2,000 to fund the Coquitlam River Watershed Stewardship Programming and Community Outreach (2018)
$12,000 to remove the abandoned vessel (the Aurika) from the shores of the Pitt River (March 2018).
$212 million toward the reconstruction of the Metro Vancouver New Lions Gate Wastewater Treatment Plant (Green Infrastructure Fund).
$950,000 toward Blakeburn Lagoons Park, an award winning brownfield reclamation project.
$2,900,000 for the Plateau Water Pump Station Project to provide clean, reliable drinking water (Summer 2017).
Investing $350,000 toward the Hydro Mobility BC Project (Phase 1), which increases the awareness, availability and use of low carbon vehicles and fuels in Canada by support the installation of hydrogen refueling and electric fast-charging stations in Coquitlam (Summer 2017).
As your Member of Parliament, I…
Drive an electric vehicle.
Advocated for the restoration of funding for the Salmonoids in the Classroom program.
Regularly meet with environmental stakeholders, such as Watershed Watch, the Coquitlam Watershed Roundtable, and Wild Salmon Forever.
Since being elected into office our government has made the largest single investment in our oceans – the $1.5 billion Oceans Protection Plan (OPP).
In BC, OPP is:
Restoring and protecting marine ecosystems and habitats from shipping-related threats by introducing a new, state-of-the-art marine safety system, including mammal avoidance mechanisms.
Forming new Indigenous Community Response Teams in British Columbia to offer training for search and rescue, environmental response, and incident command.
Creating a pilot baseline-monitoring program with Indigenous communities to better understand and mitigate the cumulative effects of shipping on sensitive ecosystems.
Increasing marine safety information for mariners and improving hydrography, charting, and e-navigation products in numerous areas, including Victoria, Esquimalt, Nanaimo, Port Renfrew, Port Alberni, Chemainus, and Campbell River.
Launching a comprehensive plan to address abandoned, derelict, and wrecked vessels, including making vessel owners responsible and liable for vessel clean-up.
Building four new Canadian Coast Guard lifeboat stations in strategic locations to improve search and rescue.
Building a new logistics depot in Port Hardy to house environmental response staff and equipment to ensure rapid response to any spills.
Increasing West Coast towing capacity, including two new towing vessels, to enable rescue towing of large vessels and container ships.
Improving the timely availability of science-based expertise during incidents by placing additional emergency and enforcement officers.
Our government is working to combat climate change by developing an extensive plan that includes:
Transparent, annual reports on emissions projections for 2030. I am delighted to share that this year we have reduced projected emissions for 2030 by an additional 21 million tonnes since last year.
Putting a price on pollution for heavy emitters that gives large industrial facilities an incentive to cut pollution and invest in clean technology, while maintaining competitiveness for companies that compete internationally.
Introducing a stronger approach to pricing pollution from electricity to forward our journey in burning less coal in Canada.
Implementing a Clean Fuel Standard to cut pollution and create opportunities across our economy – for farmers, for companies producing renewable fuel, for clean power like wind and solar, for investments in energy efficiency that save money, and more.