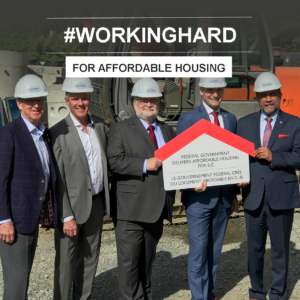 I understand that affordable housing is important to you. Affordable, stable housing is a top issue for Coquitlam-Port Coquitlam residents, and indeed British Columbians at large, that's why I'm a member of the Liberal Pacific Housing Caucus. We are working on new solutions to ensure there is affordable housing.
The Government of Canada has launched a comprehensive, 10-year, $40-billion National Housing Strategy (NHS) that will give Canadians across the country a place to call home. Since being implemented, the NHS has:
Invested more than $2.4 million in affordable housing in Coquitlam-Port Coquitlam, creating, renovating and providing subsidies to 585 units;
Provided over 70,000 people right here in BC with better housing;
Allowed the Government of Canada to enter into a 10-year, $990 million joint-agreement with the Government of BC to protect, new and expand social and community housing;
Across Canada we've already built 14,466 new units and repaired 157,334 units, which have provided 712,407 families and individuals with a more affordable place to live
Invested $705 million in federal dollars through the Social Housing Agreement (SHA) to protect, renew and expand social and community housing (including co-op housing);
Invested $7.5 billion in the National Housing Co-Investment Fund, which seeks to build new housing and renew existing affordable housing.