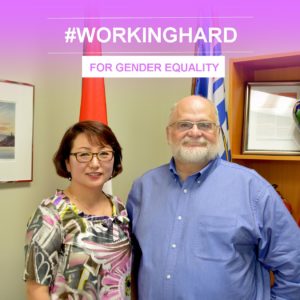 As a government, gender equality is at the top of our agenda. Since being elected, we have… 
Created an innovative Gender Equality Advisory Council to promote a truly transformative G7 agenda.

 

Invested $10 million in funding for projects that address the root causes of economic insecurity for women in communities across Canada.

 

Supported community women's organizations by investing $100 million, over five years, in the Women's Program.

 

Implemented a new Women Entrepreneurship Strategy that includes: new financing for women entrepreneurs, regionally tailored support to women entrepreneurs and expanded export services and opportunities through the Business Women in International Trade program.

 

Appointed Canada's first-ever gender-balanced cabinet.